ACUVUE ADVANCE
Johnson & Johnson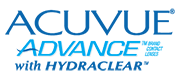 challenge
Johnson & Johnson asked for go-to-market campaign materials for the product launch of its Acuvue Advance for Astigmatism contact lenses. The lenses introduced a new, branded technology called 'Hydraclear' which needed to be clearly and concisely explained to media targets.
project lead
what we did
Press release
Fact sheet
FAQ explaining and promoting Hydraclear technology
why it mattered
The Acuvue Advance for Astigmatism product launch was considered a great success, garnering both public and press interest and highly respectable go-to-market sales figures.
Renegade Creatives | Revolutionary Content